Stenhoj Magix 45 Scissor Lift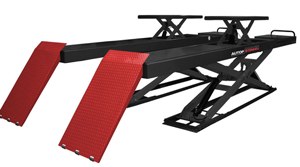 Stenhoj Magix 45 4.5T Scissor Lift
The AUTOPSTENHOJ MagiX 45 Series of scissor lifts compromises of four different models with three choices of platform lengths. These lifts have an impressive lifting capacity of 4.5 tonnes and the integral/secondary lifting versions are capable of up to 4 tonnes .
As with all other AUTOPSTENHOJ scissor lifts, these lifts are electro-hydraulically operated and are fitted with a clever safety device should a pipe burst. In addition all models include LED lighting, 1000mm drive on ramps (suitable for surface mounted applications), end stops, hose covers and expansion bolts.
ALL AUTOPSTENHOJ lifts are led through a sling purifying plant (according to SA2.50 – ISO-Norm 8501-1:2007), dipped in primer and finally led through an electrostatic powder bake plant.
Features
Double master / slave system
Control stand with integrated pump unit and alarm signal
Electronic synchronization
Emergency lowering valve
Sturdy scissor construction
No mechanical connection between scissor sections
Optimum access to vehicle
Low minimum height
Variable fitting width
WL versions for wheel alignment also feature a special locking device (parking mechanism) for accurate wheel alignment.
The four models to choose from are as follows :
S model – Standard flat platforms (no integral/secondary lifting)
S Combi model – Standard flat platforms with integral/secondary lifting
WL model – Wheel alignment model with rear slip plates and front recesses for turn plates (turn plates excluded) without integral/secondary lifting
WL combi model – Wheel alignment model with rear slip plates and front recesses for turn plates (turn plates excluded) with integral/secondary lifting
4500mm, 4800mm and 5200mm platforms available
Technical Specification
| | S | S Combi | WL | WL Combi |
| --- | --- | --- | --- | --- |
| Lifting Capacity |  4500kg | 4500kg | 4500kg | 4500kg |
| Secondary Lift |  N/A | 4000kg | N/A | 4000kg |
| Lifting/Lowering Time |  50 seconds | 50 seconds | 50 seconds | 50 seconds |
| Platform Height | 220mm | 220mm | 220mm | 220mm |
| Maximum Height |  1900mm | 1900mm + 400mm | 1900mm | 1900mm +400mm |
| Platform Length |  4500mm or 4800mm or 5200mm | 4500mm or 4800mm or 5200mm | 4500mm or 4800mm or 5200mm | 4500mm or 4800mm or 5200mm |
| Platform Width |  660mm | 660mm | 660mm | 660mm |
| Jacking beam rails | Yes | No | Yes | No |
| Overall width of lift |  2120mm – 2320mm | 2120mm – 2320mm | 2120mm – 2320mm | 2120mm – 2320mm |
| Motor Size | 3kw | 4kw | 3kw | 4kw |
| Power Required | 3 phase (16amp isolator required) | 3 phase (16amp isolator required) | 3 phase (16amp isolator required) | 3 phase (16amp isolator required) |
| Operation | Electro-hydraulic | Electro-hydraulic | Electro-hydraulic | Electro-hydraulic |
Call us now on 01823 328530 for more details