Werther Class IV ATL Scissor Lift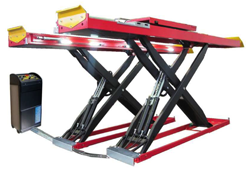 Werther Class IV ATL Scissor Lift
The Werther Class IV ATL Scissor Lift is ideal for workshops with limited space.
This scissor lift is electro-hydraulically operated and capable of lifting vehicles up to 4.5 tonnes.
ALL AUTOPSTENHOJ lifts are led through a sling purifying plant (according to SA2.50 – ISO-Norm 8501-1:2007), dipped in primer and finally led through an electrostatic powder bake plant.
AUTOPSTENHOJ Lifts are manufactured in Denmark
Features
Hydraulic platform synchronisation
2 Independent hydraulic circuits
Overload safety valve
Safety valve in the event of pressure loss
Manual descent system in the event of power failure
24v 'dead man' controls
Rails for jacking beam
Jacking beam
Technical Specification
| | |
| --- | --- |
| Lifting Capacity | 4500 kg |
| Lifting / Lowering time | 40 seconds / 30 seconds |
| Platform length | 4800mm |
| Lifting height | 2100mm |
| Minimum height | 330mm |
| Air requirement | 6-8 bar |
| Motor size | 4kW |
| Power requirement | 6-8 BAR |
| Motor size | 4kW |
| Phase | 3 Phase (16a Isolator Required) |
| Operation | Electro-hydraulic |
Call us now on 01823 328530 for more details