Lifting Accessories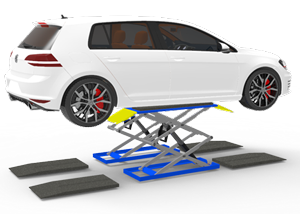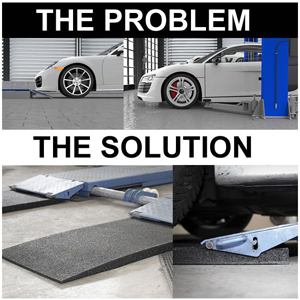 4 Post / Scissor Lift Rubber Riser Pads
For use where a vehicle with low front spoiler or bodywork would be damaged using a surface mounted lift.
Cars with a very low chassis or vehicles with short wheel bases do not have enough space when driving on or over the lift. If the distance between the lift and the vehicle is so low that no rubber block can fit between the vehicle and the lift, the lift cannot be used.
Application 1: The ramps are placed in front of and behind the lift and allow the vehicle's approach angle to be reduced to avoid contact with the sill or underbody.
Application 2: The elevated position of the vehicle allows a rubber block or arm to fit between the lift and the vehicle. Safe lifting of the vehicle is then guaranteed. The products are made of high quality rubber granulate. Thanks to the high weight, the plates are firmly on the ground without having to be fixed.
Set of 4x50mm Pads
£440.00 + VAT
P/No. :
liftpad50-scissor
Set of 4x40mm Pads
£359.00 + VAT
P/No. :
liftpad40-scissor
2 Post Lift Rubber Riser Pads

Low Profile Sports Cars Riser Ramp for use with 2 Post Lifts
Dimensions: 500 x 500 x 40mm
For use where a vehicle with low ground clearance or side skirts does not permit the 2 Post Lift Arm to be put into position.
Set of 4x40mm Pads
£279.96 + VAT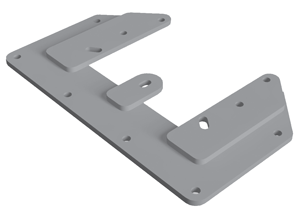 Weight Distribution Plates
For the installation of 2 column lifts on reinforced concrete floors with a minimum thickness of 14 cm and a hardness of B25.
The maximum recommended forces according to the calculation :
N (max) = 18,25 kN
Mx (max) = 11.50 kNm
My (max) = 13.50 kNm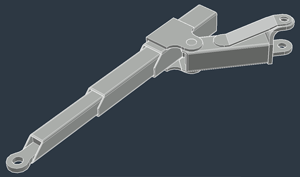 Articulated Arm
For better access for battery-powered vehicles
Compatible with models DM4.0T/2 and DM4.0T/SB2