VOSA Approved 13 Pin Towing Socket Tester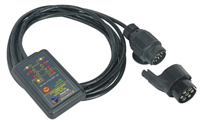 VOSA Approved 13 Pin Towing Socket Tester
This product is an MOT Towbar Trailer Socket Tester for 7 PIN and 13 PIN Towing Sockets.
Testing meets the VOSA (MOT) specification for 13 pin Trailer Socket Test Tools and can also be used for testing most 7 pin trailer and tow bar sockets with the FREE adaptor supplied.
Important Information
Please Note some 7 pin vehicle trailer sockets may not be wired in a uniform way, and it is possible that using the adaptor will prevent the socket tester working in the same way as the 13 pin socket.
Testing of 13 Pin Tow Bar Trailer Electric Sockets will be mandatory from 1st January 2012 for MOT Test Stations (classes: 3, 4, 5 & 7) and the socket tester used must be on the VOSA list of approved equipment, (SEE VOSA SPECIAL NOTICE 1-2011).