GYS Powerduction 37LG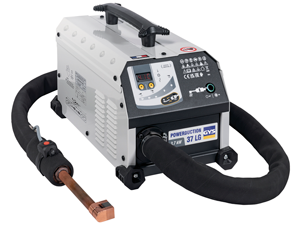 GYS Powerduction 37LG
The POWERDUCTION 37LG provides instant and powerful heating to release, or simply heat, steel or aluminium. Light and portable, it will heat metal parts for several minutes without interruption thanks to the water cooling system.
The ideal tool for mechanical and maintenance:
essential to release steering linkage (wheel alignment).
removal of glow plugs, seized up wipers, spare wheel crates.
releasing of seized up bolts.
releasing of steering ball joints without damaging the bellow.
releasing of shaft drives seized up in the hub.
removal of automotive or truck exhaust lines.
removal of steel or aluminium elements assembled with glue.
Features
High heating performance: 3700 W, adjustable by steps of 250 W. Heats up directly in the heart of the metal, at a depth of 6 mm. Brings a piece of steel to red hot (around 1000°C) within seconds.
Safety and time savings: Immediate heating, without flame, on a specific area, allowing to work close to cables, pipes, or any other part sensitive to heat, without dismantling.
Portable machine: Used to reach areas difficult to access. Supplied with a 2 meter inductor cable.