HIC006 Auto Test Aid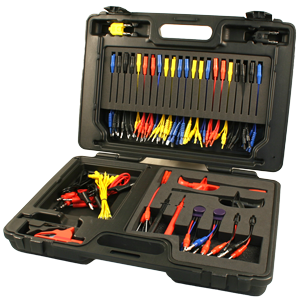 HIC006 Auto Test Aid
This HIC006 Auto Test Aid turns your testing and measuring devices into a powerful automotive diagnostic tool for fault finding the increasing number of sensors, actuators and electronic circuits found on today's vehicles.
The set contains 104 pieces of all essential test aids packed in an lightweight carry case needed for tracing, checking, capturing or fixing complex vehicle circuitry.
Special Offer
Normal Price £195.00
£135.00 + VAT
An indispensable test aid for the vehicle electrician.
Kit Contents
Testing Probe x 2
Alligator Clip x 2
1 to 2 Connector x 2
5K Variable Resistor x 2
Polarity Tester / Stroboscope x 2
SRS Air Bag Replacement Connector x 2
Insulator Pierce Through Clip x 2
Testing Needle x 4
Male/Female to Male/Female Extension Wire x 4
Round Terminal (Weather-Pack Terminal) x 24
Flat Terminal (Metri-Pack & Micro-Pack Terminal) x 58