Sealey VS213 6 Piece Noid Light Set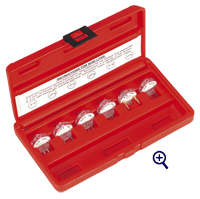 Sealey VS213 6 Piece Noid Light Set
Check fuel injector signal faults fast.
£19.95 + VAT
Log in for Trade Prices
Simply disconnect injector harness and plug in noid light. Turn the ignition on - if the light is steady or absent, then signal from ignition system is at fault.
Easy to use, and fits a wide variety of injector harnesses.
Compatible with :
GM PFI
Ford TBI
GEO TBI
Bosch PFI
GM TBI
GM SCPI