Bosch FSA050 Hybrid Tester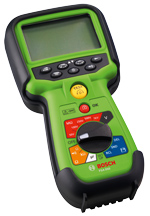 A Quick and Accurate Tester
The FSA050 is a quick and accurate high-voltage insulation tester, CAT III (1000 V) / CAT IV (600 V) safety rated capable of testing vehicles with hybrid electric and electric drives.
The FSA050 allows workshops to perform hybrid diagnostic tasks quickly, efficiently and accurately, improving productivity and increasing service opportunities with hybrid vehicle customers.
The new FSA050 diagnostics tool for testing vehicles with electric and hybrid drive is CAT III (1000 V) / CAT IV (600 V) safety rated*. The FSA050 can be used as a stand-alone device, or the hand-held device can be linked wirelessly to a laptop/PC, or optionally, to the FSA 720/740 for documenting of the test measurement results.
As a stand-alone solution, the FSA050 offers insulation and high-voltage testing for electric and hybrid drives quickly, displaying test measurements in the dual-digital display. As test module, the hand-held device is designed to connect wirelessly to an existing laptop, PC system or the Bosch FSA 740/720, displaying more comprehensive test results. It is also possible to download or print these results for the shop records or showing a customer the results.
Equipped for professional diagnostics of electric and hybrid vehicles
Hand-held unit with wireless data transmissions from FSA050 to a laptop or PC with Windows operating systems¹ or to the FSA 740/720
Perform the following tests on vehicles with electric and hybrid drive

High-voltage tests
Insulation tests
Multimeter function: Voltage, resistance, capacity, continuity test
Download the FSA050 Sales Leaflet
FSA050 Kit Includes
FSA050 unit
(2) Two Silicone measuring cables
High-voltage probe
DVD CompacSoft[plus]
Bluetooth stick
Storage case
System Requirements
Windows XP SP2, Windows Vista™ Home Premium, Windows Vista™ Business, Windows 7
Danger
Risk of shock, electrocution, severy injury or death
Hybrid electric vehicles have high-voltage components.
Use this tool on hybrid vehicles only if:
You are trained in high-voltage electrical system repair on hybrid electric vehicles.
You have read and follow the OEM manufacturers approved hybrid electric vehicle service procedures due to the high voltages in hybrid vehicles
You are using the CAT III / 1000V rated leads included with this kit
You are wearing proper protective gear, including Class 0 Type 1 electric service gloves that are free from defects/faults and that meet ASTM D120 standards and protect up to 1000 Volts AC / 1500 Volts DC.
Failure to follow these steps could result in shock or electrocution, causing severe injury or death.