Bosch BEA950 Emission Analyser
The Premium Exhaust Station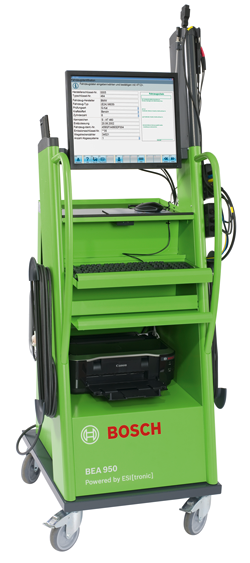 £7995.00 + VAT
Please call us to purchase
BEA950 equips you to meet the highest current and future requirements for exhaust emission test. This user-friendly exhaust-gas measuring system contains all the modules you need for quick and profitable examination of gasoline, gas and diesel vehicles.
All testing modules, ECU tester, PC, 19" monitor, keyboard and A4 printer are compactly housed in an equipment trolley. The system is even more forward looking thanks to its upgradeability to include add-on options from the Bosch FSA series, such as ECU diagnostics, troubleshooting instructions and engine system testing.
Equipped for the toughest applications
Premium equipment trolley including PC, monitor, keyboard and A4 color printer
BEA 055, 4/5 gas measuring module (CO, CO², HC, O², optional: NO)
BEA 070, smoke-opacity testing module Bluetooth, optional: battery and charger
KTS 540, Bluetooth (optional)
BEA 030, engine speed testing module, Bluetooth (B+/B-, TN/TD, Kl1/15, temperature)
BDM 300 (structure-borne and airborne sound signals)
BEA PC software
Vehicle exhaust emission analysis target database
The high-performance system for emissions measurement and minimization
The premium solution for all workshops. Designed for extensive testing of pollutant emissions, this system offers an array of workshop-friendly details. PC and testing module BEA 070 are connected via wireless technology – which means that there are no interfering cables. Sensors can stay connected during transportation, making the BEA even more convenient and easier to handle.
Features at a glance
Premium emission analysis station for workshops with the highest standards
Space saving – All testing components are housed in the equipment trolley
Workshop compatible – Rugged design ensures protection against damage
User friendly – PC, BEA 070, BEA 030 and KTS 5XX are wirelessly connected
Flexible – Battery operation of the BEA 070 is optional
High availability – Short setup and warm-up times
Expandable to an all-in-one system complete with ECU diagnostics, troubleshooting instructions ESI[tronic] and Engine System Testing FSA
Scope of delivery
Premium trolley
UK mains lead plug & accessories
PC, monitor, mouse, printer
Keyboard (GB)
BEA 030
BEA 055 with 02
BEA 070 un-calibrated
BEA 070 cleaning brush
BEA PC-SW UK
KTS 515 (with integrated power supply & USB lead)
Probe (Petrol car) incl. 8m hose
Probe (Diesel car) incl. 1m hose
Probe seal for leak testing
Temp probe (90cm)
B+/B- connection
TN/TD connection
Calibration pin
Remote control
Retrofit kit accumulator (optional)
Charging station (optional)
BEA PC Software - Safely Networked
BEA PC software: For high-speed data exchange
The new BEA PC software is the all-round solution for workshops. The possibility for data networking and easy operation with intuitive menu navigation and highly automated testing procedures will in future make possible even faster and more profitable statutory exhaust-gas testing.
Future-proof connectivity to other applications
The new test software by Bosch equips workshops for meeting new exhaust emission limits. By networking with AWN, BNet and AU Plus, Bosch workshops can take advantage of even more lucrative business opportunities.
AWN networked test equipment by Bosch
ASA Network links the entire test equipment to all other workshop areas. All information from order acceptance and the workshop through to central storage is available at all times – on any workstation. When a new job order is created in the system, the exhaust-gas analyzer receives the job data automatically.
Also networkable with BNet by Beissbarth
BEA is compatible with BNet, the network technology of Beissbarth GmbH
AU Plus: Efficient, harmonized and fully integrated
The connected exhaust-gas analyzer informs the network manager about the progress of work. After the test is completed, the results are immediately available to the job order system for further analysis. The data is finally transferred to the AU Plus software and stored in the database.
Benefits to the workshop
Networking with AWN, BNet and AU Plus
User friendly – Intuitive operation
Fast – Highly automated testing procedures
Simple – Automatic installation setup
Future-proof – Adapts to regulatory changes
Efficient – Linking of order acceptance and workshop
Transparent – Vehicle and customer data at a glance
Download
Download the Bosch Emission Brochure