Miracle A9S Auto Key Cutting Machine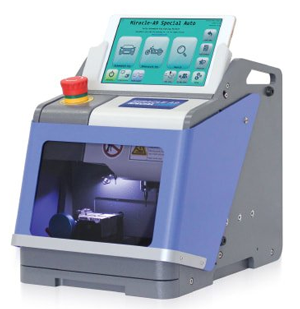 Miracle A9S Auto Key Cutting Machine
The Miracle A9 Special Auto key cutting machine is an All-in-one computerised key cutting machine used to create or copy automobile keys, automobile tubular keys, automobile dimple keys, and vehicle edge cut keys.
The Miracle A9 Special Auto uses state of the art CNC technology to support fast and accurate key production. It is an innovation key cutting solution which is designed for professional locksmiths. Miracle A9 Special Auto is equipped with a large removable Tablet for easy key production with no extra external devices.
Main Features
8" Touch Screen with added features
Does not include the Domestic Jaw
Light weight – 19.3kg – Easy to use in narrow spaces and better mobility
Built in Wi-Fi
Direct Instacode input
Noise reduction technology and low vibration design
Simultaneous key decoder & cutter actions
Provides manual operation to mill key for special purpose
Tilting and removable screen
Replaceable clamps to support various key productions
LED light for night work Equipped with tool tray for easy tool storage
Rapid automatic key measurement & duplication
Key production log & customer management functions
Can be upgraded to the full machine via new main pcb and Domestic Jaw.
8" Touch Screen
8" tablet makes operating the device easier and upgraded CPU enables use of the program faster.

Ball Screw and LM-Guide Equipped
Supports more accurate and powerful cutting force by equipping ball screw and LM-guide.

Wireless Upgrade via Wi-Fi
Easy to upgrade data using Wi-Fi wireless network.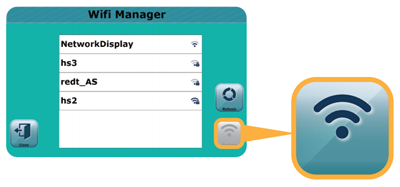 Manual Operation
Provides manual operation to mill key for special purpose.

Bluetooth Operation System with Detachable Tablet
It is possible to separate the machine and exclusive tablet and Bluetooth allows wireless key manufacturing system.

Replaceable Clamp
Replaceable clamps to support various key production.

Decoder and Cutter
Easy-to-use "key measurement and duplication" by using both decoder and cutter simultaneously.
Automatic Key Measurement
Automatically measures the thickness, position of tip and center of a key. (Automatically corrects error in measurements)

Dual Spindle Belt
Guarantees stable spin performance with dual spindle belts.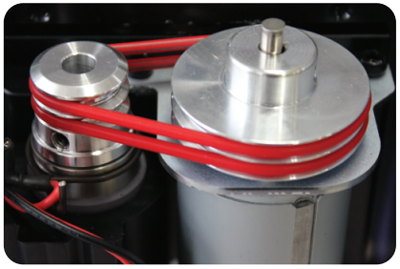 Adjustable Touch Screen Tilt Angle
Adjustable touch screen tilt angle to adapt user's various working environment such as light reflection and touch angle.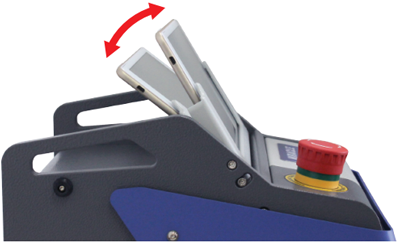 LED Lights
The bright LED lights support night work and other poor lighting environments.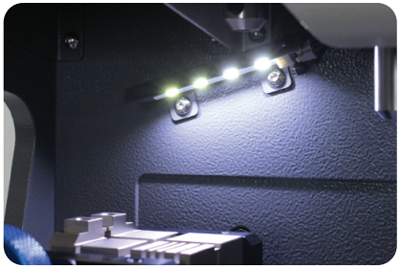 Optional Household Jaws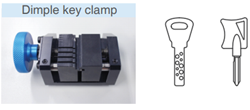 Dimple Key Clamp
Add-on jaw designed for dimple keyway applications.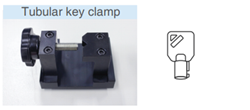 Tubular Key Clamp
Add-on jaw designed for tubular key applications.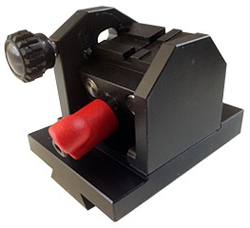 Magnum Jaw
Jaw turns 14 degrees left and right for Dimple cutting.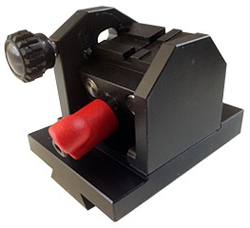 Magnum Kit
Jaw turns 14 Degrees Left and Right for Dimple cuts.
Includes Adaptor, 1.5mm cutter, Dimple cutter and Dimple decoder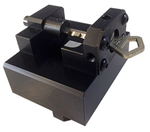 Abloy Single Sided Jaw
Abloy clamp for Miracle A9.
Optional Jaws for Auto Applications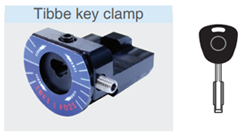 Tibbe Key Clamp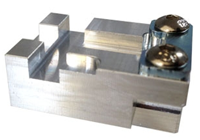 HU66
VAG All Models using HU66 Blade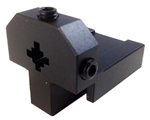 SX9
For use with the Peugeot, Citroen cars using SX9 cruciform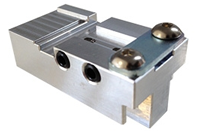 VA2 Renault
Miracle Renault Smart key adapter. For use with the Renault smart key cards.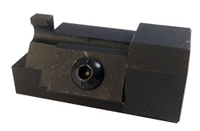 FO19
For the Silca FO19 key as used on the Ford, LDV and London Taxis.
Replacement Cutters and Decoders

T60-E20-P
6mm x 2mm Cutter

T60-E15
6mm x 1.5mm Cutter.
For the edge cut keys that need a narrower cutter. (example GT10, Iveco etc). Also for the Miracle Select.

T60-E10-P
6mm x 1mm Cutter

T60-P10
1mm Decoder Tip.
Replacement Jaws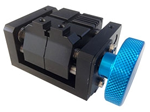 Auto Jaw
Included in A9S Auto package.