Instacode Software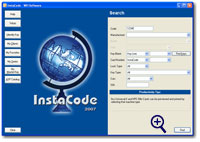 Instacode Software
InstaCode is considered the leading Key Data Software throughout the world. With over 3 billion key codes, and new codes added daily, InstaCode is a vital tool for any professional locksmith.
Compared to code books or any other code package, Instacode is a quick, easy to use program.
As lock and key technology constantly changes, so too does InstaCode, constantly evolving to provide you the latest accurate information on; Codes, Cards, Transponders, Airbags, Car Opening techniques, ASP replacement products with most models featuring colour picutures of the ASP locks and service components.
InstaCode has been thoughtfully designed to easily take the user through 'windows' based pages. A comprehensive search engine takes you directly to the information you require. Even if you only have limited details, the program is smart enough to find all related keys that fit your search criteria.
A graphical layout displaying space & depth information, flat widths, angles, card number and other relevant key cutting information makes InstaCode easier to use than many alternatives.
InstaCode includes a web update feature, which periodically checks for updates, ensuring you always have access to the very latest version and newest code series available for the forthcoming year.
Instacode Annual Subscription
Instacode can be purchased on an annual subscription basis.
Welcome to the World of InstaCode
InstaCode is the essential product for every locksmith worldwide. No matter which country you operate in, no matter what machinery or tools you use, whether you're doing automotive, domestic or commerical work, InstaCode is the only code program you'll ever need.
Features
InstaCode includes over 6000 code series, and has the largest collection of data available. InstaCode is an intuitive user interface using predictive text entry. The program has the broadest range of search criteria and the fastest search available in any code software including searching by code, manufacturer, vehicle make, model and year, card number, key blank reference, key type etc.
Key blank cross-references, includes 36 Key Blank manufacturers and over 70,000 references.
Pictures of key blanks and key blank profiles.
Support for the widest range of key cutting machines.
Printouts of whole code series (for use in you van).
Ability to search for bittings across a range of code series.
Car opening instructions for popular models. (Optional Extra)
Complete ASP catalogue online, cross references against make and model, with most models featuring colour pictures of the ASP locks and service components.
Key Remote Programming procedures for popular models. (Optional Extra)
Transponder key information and programming techniques. (Optional Extra)
Client key code storage & retrievals.
InstaCode supports a wide range of locksmith tools and is not specific to any particular manufacturer.
Live updates are available periodically via the Internet as new code series and information comes to hand.
InstaCode is multilingual (English, French, Spanish, Italian, German).
Ability to download to...
Bianchi 883
Bianchi 993
Bianchi 994
Silca's Unocode Version I, II, 299 and 399's
Silca's QuattroCode
Silca's Triax (Optional Extra) (Firmware version 3.1.046 - 27/11/2002)
Ilco UltraCode
ITL 9000 and 950
HPC's Codemax
Ilco Orion ECM 200
JMA ProCode
Key cutting information for...
Framon
Curtis
A1
Ilco Universal II
HPC Blitz (1200cm) Improved quality & accuracy on code card printouts
HPC 1200 Punch
We are more confident than ever that you will find InstaCode to be "The World's BEST Code program", and that InstaCode is without compromise in terms of quality, ease of use, speed and quantity of information contained within.