Hobbyweld Gas Cylinders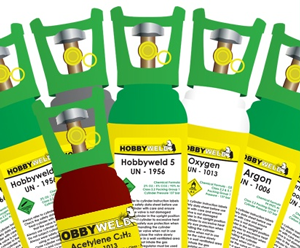 Hobbyweld Gas Cylinders
A range of 'Rent Free' gas cylinders for both welding and automotive air-con applications.
Tired of paying rental?
Gas cartridges too expensive?
Need a reliable source of gas?
The simple solution is the Hobbyweld rent-free cylinder
Hickleys are now a distributor for Hobbyweld gas cylinders.
Many gas users do not require their cylinders every week of the year and understandably do not want to rent a high pressure gas cylinder they will only use occasionally. However, disposable cartridges are very expensive in relation to larger cylinders.
Keep your cylinder for as long as you need and refill it as often or as little as you like!
All gases are supplied on a collection or local delivery only basis.
Hobbyweld 5 - Mig Welding Gas
Gas capacity 1.34m3 (9 litre cylinder)
Hobbyweld Oxygen
Gas capacity 1.33m3 (9 litre cylinder)
Hobbyweld Nitrogen
Gas capacity 1.32m3 (9 litre cylinder)
Hobbyweld Acetylene
Gas capacity 0.81m3 (5 litre cylinder)