Workhorse WRN7.5HP-270S Piston Compressor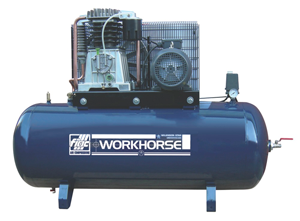 Workhorse WRN7.5HP-270S Piston Compressor
The Workhorse WRN7.5HP-270S offers all the features of the smaller WRN5.5HP-270S but delivers an impressive 29cfm @ 10 bar, which is more than sufficient for most large garages, industrial applications and commercial workshops.
This compressor has the same large 270ltr receiver capacity and boasts a 7.5HP 3 phase heavy duty motor. Again the twin cylinder pumps offer slower running, lower noise and longer life which sets this compressor apart from its competitors and enables us to offer a 2 year warranty.
We offer a full compressor & pipework installation, repair, service and certification service for all your compressed air needs. Please contact our Garage Equipment sales & service team for more information on 01823 328530.
Features
Cast iron cylinder block
Air receiver built to latest European Standards 09/105 CE
Heavy duty industrial motor with overload protection
Twin cylinder pumps
Fitted aftercoolers
Aerodynamic flywheels for efficient cooling
Slow running pumps giving lower noise levels & longer life expectancy
Automatic stop/start controls
UK built & tested to latest European standards
Full backup by our factory trained engineers
2 Year conditional warranty (Subject to registration terms & conditions)
Specification
Motor HP 7.5
Air Receiver Litres 270
Displacement CFM 29.0
Free Air CFM 23.0
Electrical Phase 3
Dimensions (mm) 1600 x 500 x 1040