Play Detectors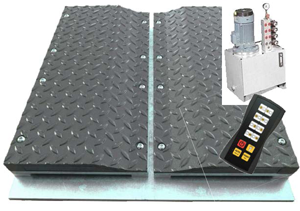 VTEQ Axle 5000 Play Detector
The Axle 5000 has been designed as a class IV & VII pit mounted play detector, (shaker plate) that give exceptional performance and reliability.
The hydraulically operated plates move both lateral and contrary enabling both side and twist movement tests to be carried out.
The Axle 5000 is located on the offside of the pit in a shallow tray with the hydraulic motor being installed either in the pit wall (new pit) or above ground (existing pit). The plate measures 500mm - 500mm and only 55mm deep making it ideal for retro fitting to existing pits.
The unit has a strong 3 phase motor creating 7800n force and has a 4t capacity. The Axle 5000 is operated by cable free remote control complete with inspection light.
Technical Specification
Size
500 x 500 x 55 mm
Weight
52 Kg
Max Axle Weight
4000 Kg
Thrust Force
7800 N (a 120 Bar)
Working Pressure
Up to 160 Bar
Plate Movements
Lateral 40mm each side
Contrary 40mm each side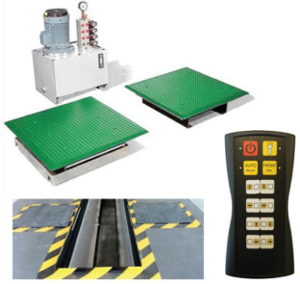 Heavy Duty VTEQ Axle 7000 Play Detector
The VTEQ axle play detector is characterised by its strength and robustness particularly because all key parts that are more prone to wear have been designed by VTEQ in their own manufacturing workshop, ensuring longevity and intense usage.
DVSA approved, it comes with 8 way movement, programmable automatic sequence, automatic centring all of which are operated by a wireless handset.
Size 850 x 850 x 185 mm
Weight 450 Kg
Max. axle weight 18.000 Kg (Optional 20.000 Kg.)
Thrust force 25.000 N
Motor 3 KW
Working pressure 120 Bar
Plate 1 & 2 Movement transversal & longitudinal 100mm
Power supply 3 x 230 / 3 x 400V 50 / 60 Hz
Working conditions Temp -5 ÷ +40 ºC
Relative humidity < 95%