MVPPro Key Programming System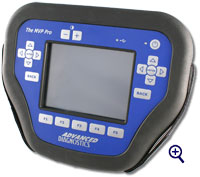 The MVPPro 'Pay As You Go' or 'Unlimted Token Plan' Key Programming System
The MVP Pro is the latest key programming tool to be launched from Advanced Diagnostics, offering a low cost entry into the market.
The World Leaders in Transponder Key Programming have improved the revolutionary 'Pay As You Go' key programming system with the functionality of the AD100Pro. The MVP Pro uses electronic tokens which can be purchased easily and quickly on the internet.
Now, the MVPPro can be purchased with an unlimited token plan (UTP) which further expands the purchase options available.
The equipment benefits from a large LCD touch screen/versatile keypad for easy navigation/selection, and a USB interface for fast software downloads.
MVP Pro has been designed with simplicity in mind and the variety of adaptors required for the MVP have been integrated within simple colour coded dongles that configures the tester, thus reducing the quantity of cables required.
The MVP Pro is also capable of running both standard software and the latest test software at the same time, providing the customer with complete flexibility.
Combined with enhanced security and increased memory capacity, the MVP Pro positions itself as the leading transponder key programming tool in the world.
For a full list of vehicles able to be programmed with the MVPPro, please see the Advanced Diagnostics Info Quest website.
Great Price
This low cost unit opens up key coding opportunities to even the smallest users, enabling you to benefit from this new and emerging high profit market!
Pay As You Go !
The "Pay as You Go" system works by using Electronic Tokens that can be purchased quickly and easily over the internet (on this website - see Electronic Tokens for Token Purchasing).
The MVP Pro is supplied with all available software applications and is easily updated with new software from the internet, at no cost, ensuring the technician always has the latest developed software.
This system uses electronic tokens to program vehicles, one token per vehicle, and along with never having to purchase software again allows anyone who wants to offer key programming a step in the door ... at a price any security professional can afford.
UTP - Unlimited Token Plan
Alternatively, you can choose an unlimited token plan (UTP). The UTP enables you to pay an annual fixed cost and then use your MVPPro unlimited.
The UTP offers an opportunity to still benefit form the low capital cost but program as many vehicles as possible and avoid token wastage by making errors whilst programming. If you have the opportunity to program 3+ vehicles per week, the UTP can be the best option.
For more details and to purchase the UTP, click here.
MVP Pro Kit
The MVP pro comes with the following kit as standard :
MVP Pro "Pay as you go" Tester 
Operating Manual
One month of UTP
All Available Software
All Future Software
Carrying Case
Technical Support
Upload Lead
Power Supply
16pin OBD Cable
Vehicle Specific Dongles
Website Forum 
Smartcheck Security Calculator
£90.00 + VAT
Buy 5 @ £ 80.00
Buy 10 @ £ 75.00
Buy 18 @ £ 70.00
Optional Cables
Many older vehicles used a non-standard diagnostic cable for communication with the ECU. These cables can be purchased individually as required.
Electronic Tokens
Each time a vehicle is programmed one token is used. New electronic tokens are easily ordered and downloaded via the internet.
Prices for tokens are as follows:
Please note:- to purchase tokens please have your product serial number ready and visit the Electronic Tokens page.
No. of Tokens
Price
MVPPro
10

£260.00


(£26.00 per Vehicle)

For MVPPro
25

£380.00


(£15.20 per Vehicle)

For MVPPro
50

£650.00


(£13.00 per Vehicle)

For MVPPro
100

£1150.00


(£11.50 per Vehicle)

For MVPPro
250

£2275.00


(£9.10 per Vehicle)

For MVPPro
Unlimited (Annual)

£1970.00


Unlimited for 12 months
(Terms Apply)

For MVPPro
Unlimited (6 Months)

£1035.00


Unlimited for 6 months
(Terms Apply)

For MVPPro
Unlimited (3 Months)

£570.00


Unlimited for 3 months
(Terms Apply)

For MVPPro
Unlimited (Monthly)

£205.00


Unlimited for 1 month
(Terms Apply)

Please Contact Us to Order
| No. of Tokens | Price | Price per Vehicle Program |
| --- | --- | --- |
| 10 | £260.00 | (£26.00 per Vehicle) |
| 20 | £ | (£0.00 per Vehicle) |
| 50 | £650.00 | (£13.00 per Vehicle) |
| 100 | £1150.00 | (£11.50 per Vehicle) |
| 250 | £2275.00 | (£9.10 per Vehicle) |
| Unlimited(Annual) | £1970.00 | Unlimited for 12 months |
| Unlimited(Monthly) | £205.00 | Unlimited for 1 month |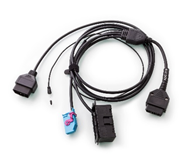 ADC219 - VAG Instrument Reset Cable
The ADC219 VAG Instrument Reset Cable is designed for use on an "all keys lost" situation on VAG vehicles with UDS & Micronas protocol vehicles. The cable connects to the AD100Pro / MVPPro tester and the vehicle's OBD port and is specifically used in a lost key situation for various VAG group vehicles.
The ADC219 cable is designed to be used with ADS230 Cat C software and Smart Dongle.
Full features and applications can be seen on the Spares for Key Programmmers page.
Software
The MVP Pro carries all available software to program the full range of vehicles. Further more, as new software is developed this is loaded to your tester FREE OF CHARGE! To load the new software level simply connect to the internet and run the MVP Pro Loader Program.
Technical Support
We have a team of experienced staff willing and able to assist with all your programming issues.
Telephone (01823) 328532 within office hours.
Useful Optional Extras & Associated Equipment