AD100Pro Key and Remote Programmer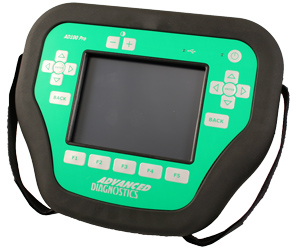 World Leading Tester
The AD100Pro Key and Remote Tester offers Auto Locksmiths and Diagnostic Specialists an opportunity to enter a new and lucrative market normally only available to manufacturers dealers.
For online purchasing options, please visit the Package Deals page.
Unbeatable Features
Reads Fault Codes
Clears Fault Codes
Displays Live Data
Component Actuation
Reads Immobiliser ECU ID's
Reads Mechanical Key Codes
Clears Key Memories
Programs New Keys
Extracts Immobiliser Pincodes
ECU Identification
ECU, Immobiliser Learn Coding
Reads EKA Codes
Programs New EKA Codes
Programs Plip Keys
Great Range of Software Available
Largest range of Manufacturers
Ford
LDV
GM
Isuzu
VW
Audi
Seat
Skoda
Rover
Land Rover
Ford USA
Chrysler
Jeep
Peugeot
Citroen
Nissan
Jaguar
Aston Martin
Renault
Mitsubishi
Daewoo
Hyundai
Kia
Fiat
Alfa
Lancia
Honda
Suzuki
Toyota
Lexus
Proton
Mazda
Subaru
Iveco
Mercedes Sprinter/Vito
BMW
Ssangyong
Saab
Daihatsu
For a full list of vehicles able to be programmed with the AD100Pro, please see the Advanced Diagnostics Info Quest website.
Special Software Package Deals
We have a number of Special Software Packages available:
Single Manufacturers
Euro Kit
Euro Plus Kit
Asian Kit
Asian Plus Kit
For more information on these great package deals, visit the Software Package Deals page now!
Endorsed By Professional Auto Locksmiths
The AD100Pro is a renowned tester used throughout the world. ALA members use the AD100Pro almost exclusively; The ALA being probably the most experienced group of Auto Locksmiths in the world.
Download the ALA Endorsement below.
ALA Locksmith Association Endorsement
Five Reasons to Buy the AD100Pro
Market Leader As the world leading tester the AD100Pro will always be a forefront in key and remote programming
Software With a specialist team dedicated to key programming, Advanced Diagnostics can offer an ever increasing range of software, keeping them as the clear market leader
Technical Support As specialists in key programming, diagnostic equipment and suppliers of keys, remotes and locksmith tooling, we offer the very best in technical and product support.
Proven Pedigree 9 out of 10 dedicated testers sold in the UK are AD100Pro's. As the first and best key programmer on the market, you can be sure you are purchasing the very best equipment and joining an elite group of professionals.
Long term Future Since it's launch in 2001, 35 different manufacturers have been added to the AD100Pro. Other manufacturers can only dream of a development release on this scale. Five new softwares are planned for the coming year.