G-scan Tab Tablet PC Based Diagnostics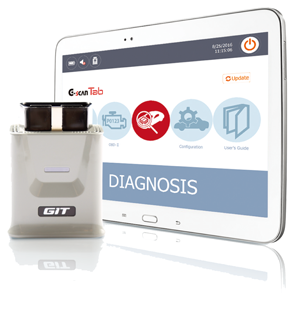 G-scan Tab - An affordable Tablet PC based diagnostic solution.
Great coverage for Asian, Euro and US car lines
G-scan Tab mirrors the latest technology that G-scan has pursued since its debut to the world aftermarket in 2009. G-scan's main focus was Japanese and Korean cars at its beginning, however, now G-scan also provides extensive coverage for major European and American brands.
Please log in to see prices
Features
Cost Efficient
No need to pay for standalone scan tool's complete hardware. Save the cost by selecting an affordable windows based tablet from the shop or by utilising the laptop that you already own.
Versatility
Runs on a Windows based tablet, or any standard Windows device, including laptop and desktop PCs.
Full Coverage
G-scan Tab shares the same database with G-scan and G-scan2, and provides full coverage of the same functionality and reliability.
* Coverage does not extend to the OBD1 generation vehicles.
* No J2535 pass-through supported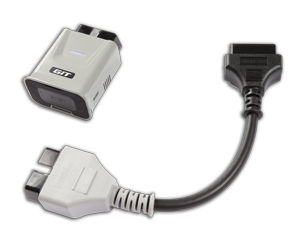 Wireless via Bluetooth
Wireless and reliable connection between the GVCI and the PC is made simple and easy via Bluetooth.
24V Commercial Vehicle Support
Supports communication with buses and trucks, and accepts power and signals of 24V commercial vehicles.
Factory Tool Based Hyundai and Kia S/W
Provides complete coverage for Hyundai and Kia cars based on Hyundai and Kia's GDS factory tools.
Touch Screen Based User Interface
Touch screen based user interface offers great experience of easy and intuitive operation of diagnostic device.
Diagnostics Features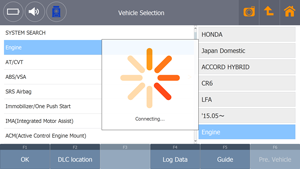 System and DTC Auto Search
"System Search" option automatically checks all vehicle systems and reports fault codes, and provides access to advanced diagnostic functions available for each detected system.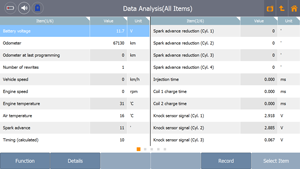 Live Data
As one of the basic diagnostic functions, G-scan Tab provides live data, enabling users to monitor the system control unit's input and output side.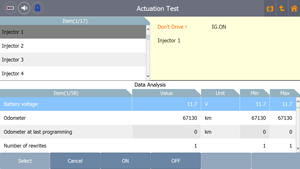 Actuation Test
Actuation test is another basic diagnostics function that G-scan provides. Users can check the control unit's operation by activating or deactivating the operation of an active component under control unit's command.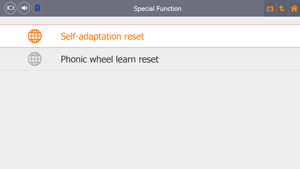 Special Function
In addition to the basic functions of DTC read/erase, Live Data, Actuation Test and ECU info, G-scan Tab provides various coding, learning and initialising functions.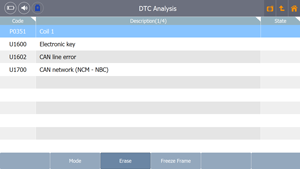 Diagnostic Trouble Code
DTC read and erase are the basic of basic functions for diagnostics. G-scan Tab provide 2-line DTC description that shows the long-text DTC descriptions in full; no more acronyms or erasing to fit in the limited space.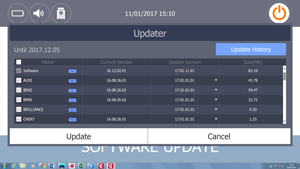 Smart Update
When the Windows Tablet or PC is connected to the internet, G-scan Tab connects to the GIT server through the internet, checks and downloads available updates and patches, and keeps the diagnostic database up to date.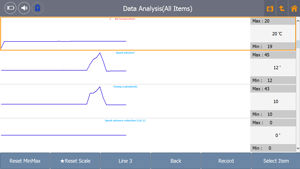 Data Graphing with Auto Scale
Alpha-numerical value of live data can be switched to fast and responsive graph mode by a simple click. It instantly self-adjusts max and min scale helping users more accurately observe and compare the parameters.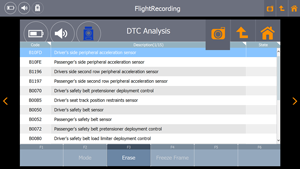 Data Log and Direct Feedback
In case of error or failure, users can log bi-directional data transmission between G-scan Tab and the vehicle. Log data can be sent to the engineers directly from G-scan Tab, which is responded within 24 hours on working days.
Specification
| | |
| --- | --- |
| Memory | Flash memory 2MB / SRAM 256KB |
| Operating Voltage | 7-35V DC |
| Dimensions / Weight | 58 x 74 x 36 xx / 90g |
| Wireless Protocol | Bluetooth 2.1 + EDR (2.4Ghz) |
| Indicators | 2 LEDs (Front/Bottom) |
| CAN | CAN (High speed, Low Speed, Single Speed) |
| K-Line / L-Line | ISO-9141, ISO9141-CARB, KWP-2000 |
| Commercial Vehicle | SAE-J1708 / J1587, J1850 (VPWM,PWM) |
| Data / Control Line | Melco Pull-Down |
System Requirements
| | |
| --- | --- |
| Display | 1200 x 800 or higher |
| CPU | Intel Bay Trail-T Z3735F 64bit processor or later with greater performance |
| RAM | 2GB or more |
| Storage(C:) | 15GB or more free space |
| OS | Windows 10 (or later version) |
| Wireless Protocol | Bluetooth 2.0 or higher |