Texa Axone Nemo Diagnostic Tester
Texa Axone Nemo - The First Smart Diagnostic Tool in the World
Designed for even Smarter Diagnostics
To develop the AXONE Nemo, TEXA drew on its vast experience as the trusted partner of tens of thousands of workshops, and tried to imagine how the mechanic's job is likely to evolve over the next five years.

The result is the world's first "SMART" diagnostic tool, a tool that is amazingly flexible thanks to interchangeable modules that can be installed whenever needed to suit kinds of application and situation.
Packages
The Axone Nemo is available to purchase in a range of packages, each suitable for different applications. For information on the packages available, and for detailed pricing, please click below:
Car & Light Commercial Premium Package
Agricultural Premium Package
Truck Premium Package
Fleet Premium Package
Waterproof, able to float and made to military standards
The AXONE Nemo is made to military standards to withstand the hardest knocks and thrives in the harshest working environments. Unique among diagnostic tools, the AXONE Nemo is fully waterproof and even floats, thanks to TEXA's internationally patented technology.
Special Production Standards
The AXONE Nemo is manufactured on ultra-modern and fully automatic assembly lines that apply extremely rigorous quality controls and ensure total product traceability. TEXA is one of only a few companies in the diagnosis sector to be certified to ISO TS 16949, the standard demanded of OEM suppliers to the automotive industry.
Lightning Quick
Thanks to its powerful hardware and dedicated IDC5 software, the AXONE Nemo is amazingly fast. In fact, it is 50% faster than the previous generation of TEXA tools, which were already renowned for their excellent performance.
Given the increasingly widespread use of electronic systems on modern vehicles, mechanics are sure to appreciate the speed of the AXONE Nemo.
A Unique Display
The AXONE Nemo's ultra-wide, 12 inch display is incredibly tough thanks to a Gorilla Glass screen and is designed to meet all the mechanic's needs, even in future years.
The display's dimensions and resolution permit easy reading of complex wiring diagrams and sophisticated measurements, including electrical readings. It is also ideal for viewing the explanatory videos that are becoming more and more common in the workshop environment.
Needless to say, the display can be used in portrait or landscape orientation.
Extend your AXONE Nemo's functionality with magnetic expansion modules
Thanks to practical magnetic fittings (another first in the world of diagnostic tools), it only takes a few seconds to fit the AXONE Nemo with expansion modules, providing the additional functionalities and resources needed for the diagnosis and repair of any kind of vehicle, even in the future.

One module worth mentioning is the optional thermographic module that lets you take previously unavailable thermal images, even on electric and hybrid vehicles. Then there is the mini docking module, which physically connects the AXONE Nemo to peripheral devices, permitting the transfer of all the data, information, images and reports needed in the workshop.
Technical Specifications
Intel® Quad Core N3160
HD 250 GB
RAM 8 GB
Ultra-wide 12 inch screen
Resolution 2160x1440
Ambient Light Sensor
Sensor area: gyroscope, altimeter, barometer, accelerometer, compass
GPS Antenna
LTE 4G Antenna
Dual band antenna, Wi-Fi/BT
5 megapixel camera
Speaker
MIC
ON/OFF button
10-30 VDC power supply connector
ON-OFF/STATE charging LED
Active Pen
Protective rubber case
Connectors for expansion modules
USB 3.0 Module
Thermographic Module
Ethernet Broad R and DoIP/LAN Module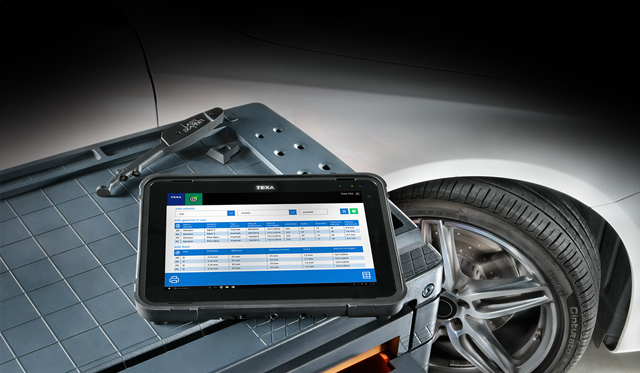 Texa Laser Examiner
The Laser Examiner is a small practical tool to objectively measure brake disk wear with an accuracy of a tenth of a millimetre without having to remove the wheel from the vehicle. You can also measure tire tread wear using a simple adapter.
This tool integrates perfectly with the Axone Nemo
For more details, visit the Texa Laser Examiner page.