ADAS Cameras and Radar Calibration Solutions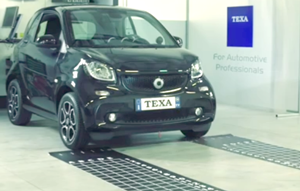 ADAS Cameras and Radar Calibration Solutions
Among the many electronic systems vehicles are equipped with today, increasing importance is given to the ADAS, Advanced Driver Assistance Systems, such as the park assist, the lane keeping, the emergency braking assist.
For this reason TEXA developed the "Video Camera Calibration Kit" made up of several panels (divided by make) which allow a correct calibration of the sensors that are part of the driver assistance system, as for example the short and long distance radar and video camera.
Thanks to its "modular" architecture, TEXA's solution allows you to create the best combination of calibration panels based on your professional needs. The software supplies, through specific diagnostic help sheets edited for each make/model, the instructions (such as the height of the panel, the distance from the vehicle, the alignment, etc.) for a correct positioning of the panel, guiding you step by step through all the phases of the calibration.
Only £2350.00 + VAT
Lease From £12.74 Per Week

Click Here for Details
ADAS Front Panel Kit
Package Contents
Main Support
Kia / Hyundai Type 2
Honda
Nissan
VAG Front Panel
Nissan / Infiniti
Mercedes Front Panel
Renault / Smart
Only £2900.00 + VAT
Lease From £15.73 Per Week

Click Here for Details
ADAS Full Kit
Package Contents
Main Support
Kia / Hyundai Type 2
Mercedes Rear Type 1
Honda
Nissan
VAG Front Panel
Nissan / Infiniti
Mercedes Front Panel
Renault / Smart
VAG Rear
Mercedes Rear Type 2