Locksmith Accessories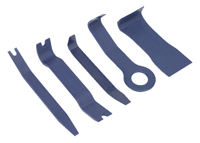 Door Trim Tool Set
5 piece set
Easily removes door trim and studs
Ideal for all types of trims
Made from resilient plastic to minimise damage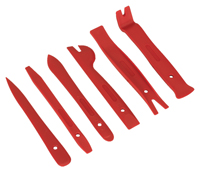 Mini Panel Removal Kit
Tools with slim profile for simple removal of small trim items and panels. Ideal for removal of dash trim and internal fittings.
6 piece set
Made from resilient nylon to minimise damage and marks
Clip Removal Tool
Gaining access to the vehicle door lock cylinder requires removal of the door trim pads. The tapered end of this heavy duty lever type tool enters between the door and trim pad, gently removing the pad.
Radio Removal Kit
18 piece car radio removal kit offers a fast moving range of keys to remove radios for VW, Audi, Ford, BMW, Mercedes, Porsche, Vauxhall and Skoda.
Ultimate Radio Removal Kit
46 piece car radio removal kit. Covers radio, CD, MP3, DVD and Sat Nav. Covers a huge range of vehicles and aftermarket brands. Contained in a blow moulded case.
Magnetic Telescopic Pick Up Tool
Ideal for retrieving items in narrow spaces or inaccessible areas.
Strong magnet
Closed length 100mm
Open length 470mm
Flexible Inspection Mirror
Ideal for use in confined areas.
Fully adjustable mirror
470mm length
Good quality mirror head
Flexible Pick Up Tool
15mm pick up clamp
Flexible shaft
600mm length
Broken Key Removal Kit
A set of 10 different tools to manipulate locks and remove broken key blades and tips.
Multi Purpose Face Cap Tool
Removes Autolock face caps without damage.
Special pair of pliers specially designed to remove and refit lock face caps without damage.