Code Wizard Pro 2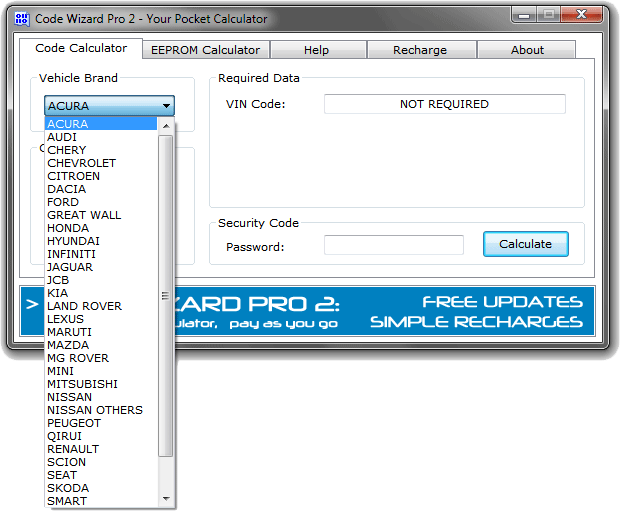 Code Wizard Pro 2
Code Wizard Pro 2 is the ultimate solution for access to various security functions, including key and remote programming, electronic unit configuration, synchronization and re-programming, mechanical key cutting, and much more…
For the Auto Locksmith
The Code Wizard Pro 2, is an innovative software program that supports multi vehicle brands and provides the ability to generate immobilizer pin codes, mechanical key codes and dealer tool security codes.
Code Wizard Pro 2 supports about 60 vehicle brands. Calculation of security codes for immobiliser key programming and electronic unit synchronization, calculation of mechanical KEY codes by VIN, passwords for Coded Access to security functions of OEM software and much more.
Features
All updates are free of charge
All calculations are paid in tokens, except algorithms available in DEMO mode
You can calculate as many codes as you want - without limits
At start you will get a USB key with 200 tokens loaded
Price of Tokens depend of ordered quantity (0.30-2.00 EUR per token)
Users of CWP-1 platform can upgrade to CWP2 and get 250-3000 FREE tokens
Code Wizard Pro 2 Set Includes:
Downloadable Win32 application
USB key with 200 tokens loaded
Lifetime updates - free of charge
Download the Demo Version
Code Wizard Pro 2 Tokens
Tokens are required for various types of calculations available in Code Wizard Pro 2 application. You can choose how many tokens you want to purchase .
| | | | |
| --- | --- | --- | --- |
| No. of Tokens | Price | Price per Vehicle Program | |
| 25 | £45.00 | (£1.80 per Vehicle) | |
| 50 | £90.00 | (£1.80 per Vehicle) | |
| 100 | £120.00 | (£1.20 per Vehicle) | |
| 250 | £205.00 | (£0.82 per Vehicle) | |
| 500 | £365.00 | (£0.73 per Vehicle) | |
| 1000 | £640.00 | (£0.64 per Vehicle) | |
| 2500 | £1375.00 | (£0.55 per Vehicle) | |
| 5000 | £2300.00 | (£0.46 per Vehicle) | |
| 10000 | £3700.00 | (£0.37 per Vehicle) | |
| 25000 | £6750.00 | (£0.27 per Vehicle) | |
Previous Users
Previous users of a CWP platform (commonly known as AD600) can upgrade to CWP2 and get 250-10,000 FREE tokens
Code Conversions Available
Acura, Honda – 1st Password for HDS < 3.014
Acura, Honda – Release Password for HDS < 3.014
Acura, Honda – PCM code for HDS < 3.014
Chery, Qirui, Great Wall – VIN to PIN code
Chery, Qirui, Geely – PIN code by dump
Chevrolet – VIN to PIN code for LATAM models
Chevrolet – VIN to KEY code for LATAM models
Dacia, Renault – KEY tag to PIN code (4 digit)
Dacia, Renault – Clip Reprogramming (6 chars code)
Infiniti, Nissan – BCM to PIN code < 2009 models
Infiniti, Nissan – BCM to PIN code > 2009 models
Infiniti, Nissan – ICU to PIN code (NATS 5.6)
Infintil, Nissan – SEC to PIN code (NATS 6)
KIA, Hyundai – VIN to PIN code (SMARTRA)
Mazda – ISN to PIN code (MECS, Lucas)
Mini, Land Rover, MG Rover – Serial to Barcode (Valeo remotes programming)
Mitsubishi – Default PIN codes
Smart – VIN to KEY code (1998-2015 models)
Suzuki – Default PIN codes Buell – PIN code by dump
Chang'an – PIN code by dump
Chrysler, Dodge, Jeep, Plymouth – PIN code by dump
Great Wall – PIN code by dump
Isuzu – PIN code by dump
Volkswagen, Audi, Seat, Skoda – PIN code by dump
Volkswagen, Audi, Seat, Skoda – CS code by dump
Supported vehicles and calculation methods of CODE Calculator
Acura – calculation of 1st immobilizer password, 2nd password (release password) and PCM code by VIN
Audi – 7 to 4 PIN code converter and vice versa
Chery – calculation of immobilizer PIN code by VIN (Chinese and Russian models, 4 different immobilizer systems)
Chevrolet – calculation of immobilizer PIN code and mechanical KEY cutting code by VIN (2000-2010 models made in Latin America)
Citroen – calculation of Unlock code for security functions of special versions of PP2000, Diagbox, Lexia and Proxia for Independent Garages
Dacia – calculation of Reprogramming Code, immobilizer PIN code by KEY tag, Incode to PIN code converter and vice versa
Ford – calculation of Incode from Outcode (4 and 8 chars, pre 2010 models)
Great Wall – calculation of PIN code by VIN
Honda – calculation of 1st immobilizer password, 2nd password (release password) and PCM code by VIN
Hyundai – calculation of immobilizer PIN code for models with SMARTRA-2 / 3 and mechanical KEY cutting code by VIN for 1986-2015 models
Infiniti – calculation of PIN code from BCM code (includes 2009 and newer models)  / ICU / SEC / ECM, KEY code by VIN for 1998-2013 USDM models
Jaguar – calculation of Incode from Outcode (4 and 8 chars, pre 2010 models), Password for Coded Access to security functions of JLR IDS / SDD
JCB – Challenge to Response value for immobilizer programming with JCB ServiceMaster
KIA – calculation of immobilizer PIN code for models with SMARTRA-2 / 3 and mechanical KEY cutting code by VIN for 2001-2015 models
Land Rover – calculation of Incode from Outcode (4 and 8 chars, pre 2010), Password for Coded Access to security functions of JLR IDS / SDD, Barcode for Valeo remotes programming
Lexus – calculation of Passcode from 6 digit or 96 chars Seed code for all versions of Techstream and IT
Maruti – calculation of 4 digit PIN code by 20 chars encrypted ID code from ECM
Mazda – calculation of Incode from Outcode (pre 2010 models), calculation of immobilizer PIN code from ISN (Lucas only)
MG Rover – calculation of Barcode for Valeo remotes programming
Mini – calculation of Barcode for Valeo remotes programming
Mitsubishi – list of default PIN codes for more than 25 models
Nissan – calculation of PIN code from BCM code (includes 2009 and newer models)  / ICU / SEC / ECM or code from glovebox for Nissan-Renault B platform, KEY code by VIN only for USDM models 1998-2013
Peugeot – calculation of Unlock code for security functions of special versions of PP2000, Diagbox, Lexia and Proxia for Independent Garages
Qirui – calculation of immobilizer PIN code by VIN (Chinese models with Siemens immobilizer)
Renault – calculation of Reprogramming Code, immobilizer PIN code by KEY tag, Incode to PIN code converter and vice versa
Scion – calculation of Passcode from 6 digit or 96 chars Seed code for all versions of Techstream and IT
Suzuki – calculation of 4 digit PIN code by 20 chars encrypted ID code from ECM, list of default PIN codes
Seat – 7 to 4 PIN code converter and vice versa
Skoda – 7 to 4 PIN code converter and vice versa Smart – calculation of TAN codes for KEY programming and SAM assignment, mechanical KEY code by VIN for 1998-2015 models
Toyota – calculation of Passcode from 6 digit or 96 chars Seed code for all versions of Techstream and IT
Volkswagen – 7 to 4 PIN code converter and vice versa
Supported vehicles and electronic units of EEPROM Calculator
Alfa Romeo – CPH, Valve, Immobilizer, BSI, ECU
Audi – EZS, KESSY, Immobilizer, ECU, Dashboard
Buell – Dashboard
Buck – SRS, REC, UCH, Navigation, DDM, Comfort, Display, CIM, Dashboard, BCM, ECU, Immobilizer, Radio
Chang'an – ECU, Immobilizer
Chery – ECU, Immobilizer
Chevrolet – SRS, REC, UCH, Navigation, DDM, Comfort, Display, CIM, Dashboard, BCM, ECU, Immobilizer, Radio
Chrysler – WCM, Immobilizer
Citroen – CPH, Valve, Immobilizer, Keyboard, BSI, ECU
Dacia – UCBIC, Immobilizer, ECU, UCH
Dodge – WCM, Immobilizer
Ducati – Dashboard
Fiat – CPH, Valve, Immobilizer, BSI, ECU
Geely – ECU, Immobilizer
Great Wall – ECU, Immobilizer
Holden – SRS, REC, UCH, Navigation, DDM, Comfort, Display, CIM, Dashboard, BCM, ECU, Immobilizer, Radio
Hyundai – ECU, Immobilizer
IKCO – ECU, Immobilizer
Infiniti – ECU, ICU, BCM
Isuzu – ECU, Immobilizer
Iveco – CPH, Valve, Immobilizer, BSI, ECU
Jaguar – ECU
Jeep – WCM, Immobilizer
KIA – ECU, Immobilizer
Land Rover – BCU
Lancia – CPH, Valve, Immobilizer, BSI, ECU
Maruti – ECU, Immobilizer
Mazda – ECU, Immobilizer
MG Rover – Immobilizer, BCU
Mitsubishi – BSI, Immobilizer
Nissan – ECU, ICU, BCM
Opel – SRS, REC, UCH, Navigation, DDM, Comfort, Display, CIM, Dashboard, BCM, ECU, Immobilizer, Radio
Peugeot – CPH, Valve, Immobilizer, Keyboard, BSI, ECU
Plymouth – WCM, Immobilizer
Porsche – BCM
Qirui – ECU, Immobilizer
Renault – UCBIC, Immobilizer, ECU, UCH
Saab – CIM
Saipa – ECU, Immobilizer
Seat – EZS, KESSY, Immobilizer, ECU, Dashboard
Skoda – EZS, KESSY, Immobilizer, ECU, Dashboard
Suzuki – ECU, Immobilizer
Vauxhall- SRS, REC, UCH, Navigation, DDM, Comfort, Display, CIM, Dashboard, BCM, ECU, Immobilizer, Radio
Volkswagen – EZS, KESSY, Immobilizer, ECU, Dashboard
Volvo – Immobilizer