Dama HDM3500 Scissor Lift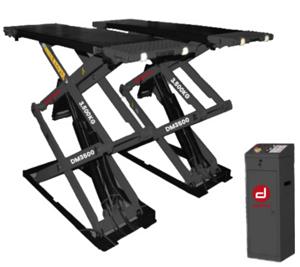 Dama HDM3500 Scissor Lift
This full height short platform scissor lift is designed to be surface mounted with a low 110mm lowered height, which is low enough to drive most vehicles over without problem.
It has an impressive 3.5t lifting capacity which is ideal for larger style vehicles, 4x4's SUV's and vans.
Scissor lifts are an ideal option where space is limited or where posts want to be avoided. Scissor lifts work exceptionally well in service outlets, tyre bays, bodyshops and inspection bays.
The full raised height is an impressive 2140mm with a rapid rise and descent speed. The platforms are 1550mm long which is extendable to 2170mm by locking out the run on ramps. This lift is available in both single phase 230v & 3 phase 400v.
All prices include delivery and installation.
To Order - Call NOW on 01823 328530
Technical Specification
Maximum Lifting Weight
3500Kg
Platform Length
1550-2170mm
Minimum Height
110mm
Maximum Height
2140mm
Weight
905KG
Power Source
230V / 1ph / 50Hz / 2.2KW
400V / 3ph / 50Hz / 2.2KW
Warranty
24 Months
Downloads
Call us now on 01823 328530 for more details