Stenhoj Magix 30 Scissor Lift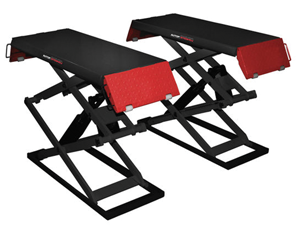 Stenhoj Magix 30 3.0T Scissor Lift
The AUTOPSTENHOJ MagiX 30 full rise scissor lift is the ideal choice for maintenance of vehicles and provides access to all the wheels on the vehicle. This lift is equipped with a double master slave system which prevents uneven raising of the platforms and unintentional lowering in case of a leakage in the hydraulic system.
Standard accessories include a set of four rubber blocks.
ALL AUTOPSTENHOJ lifts are led through a sling purifying plant (according to SA2.50 – ISO-Norm 8501-1:2007), dipped in primer and finally led through an electrostatic powder bake plant.
Technical Specification
| | |
| --- | --- |
| Lifting Capacity | 3000kg |
| Lifting/Lowering Time | 45 seconds / 40 seconds |
| Minimum Height | 105mm |
| Maximum Height | 1850mm |
| Platform Length | 1500mm – 2080mm |
| Ramps fixed to extend platform | Yes (2080mm) |
| Motor Size | 1 x 2.2kW |
| Power Required | 3 phase (16amp isolator required) |
| Operation | Electro-hydraulic |
Call us now on 01823 328530 for more details